Welcome to my website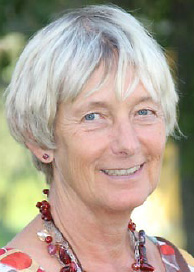 I am a clinical psychologist and psychotherapist. My original background is in family and systemic therapy, cognitive and behavioral therapy, and hypnosis. I am a supervisor for the Dutch Society for Hypnosis and the Dutch Society for Partner and Family Therapy. I have worked extensively at both inpatient and outpatient psychiatric facilities.
Since the late eighties, I have specialized in the diagnosis and treatment of patients with histories of early psychological trauma, in particular patients with complex dissociative disorders. I validated, together with Nel Draijer, the Dutch translation of the Structured Clinical Interview for DSM-IV Dissociative disorders (Boon & Draijer, 1993).
More recently, I developed a skills training manual for patients with a complex dissociative disorder, together with Kathy Steele and Onno van der Hart. I am currently working on a new diagnostic interview to assess chronic trauma-related disorders, in particular the dissociative disorders – the Trauma and Dissociation Symptoms Interview (TADS-I).
I offer workshops and training on the topic of psychological trauma and the diagnosis and treatment of dissociative disorders. I also offer supervision and consultation services to (teams of) professionals treating severely traumatized patients and their families, both at inpatient and outpatient treatment facilities.
---
WHAT'S NEW?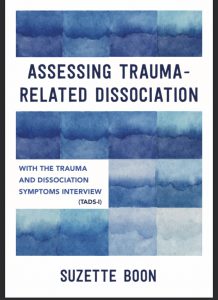 Assessment of Trauma-Related Dissociation – Introducing the Trauma and Dissociation Symptoms Interview. To be published by Norton publishers New York.
Trauma-related dissociative disorders are increasingly being considered in therapeutic practice and the clinical literature. On the one hand, dissociative disorders are still too often overlooked, on the other hand, they are also diagnosed more frequently when not actually present. This book elaborates on the assessment of these disorders, using the diagnostic instrument, the Trauma and Dissociation Symptoms Interview (TADS-I )  developed by me over the past decades.
I first address the dilemmas regarding the diagnostic criteria of dissociative disorders in the DSM-5 and ICD-11. I describe what dissociative symptoms actually are and  how a clinician can recognize these symptoms and differentiate form other alterations of consciousness.
Several thematic chapters discuss key differential diagnostic considerations and illustrate them with case reports. Also discussed are the occurrence of false-negative and false-positive diagnoses of trauma-related dissociative disorders, the assessment of traumatic experiences and the development of a treatment plan.
This book is first and foremost intended for clinicians (psychiatrists, clinical psychologists, psychotherapists and nursing specialists) who want to (learn to) diagnose dissociative disorders. For colleagues who do not perform the assessment of dissociative disorders, it provides a lot of information aimed to assist clinicians to better recognize patients with dissociative symptoms and to refer them for specialized diagnostic testing.
The complete TADS-I diagnostic tool is included in the book and available for download.
---
Norton Series on Interpersonal Neurobiology

Kathy Steele, Suzette Boon, & Onno van der Hart

WINNER OF 2017 PIERRE JANET WRITING AWARD FROM THE INTERNATIONAL SOCIETY FOR THE STUDY OF TRAUMA AND DISSOCIATION